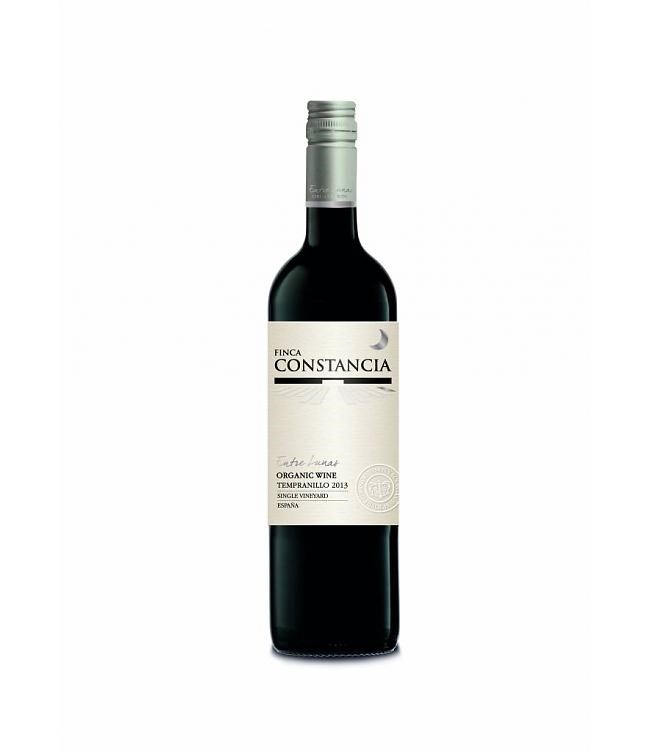 Made from 100% Tempranillo grapes, nurtured according to the strictest organic agriculture: they are grown on specific plots of land, fertilised only with decomposed plant material. Ground cover plants and vegetables are planted to provide the soil with more nitrogen and pheromones are used to keep pests at bay. To add more complexity to the winemaking process, the vines are also cultivated using biodynamic techniques, all viticulture tasks follow the phases of the moon and the position of the planets, hence the name "Entre Lunas" which means "Between Moons".
Finca Constancia Entre Lunas is aged for eight months in French and American oak barrels, resulting in a full-bodied, structured red wine whose nose combines red and black fruit aromas with mineral and spicy notes coming from the ageing in wood. The palate is dominated by soft tannins and displays aromas of chocolate and coffee which linger in the very long finish. This wine displays a great balance between acidity and the 14% alcohol level.

Bottle: 22.00 50cl. Carafe: 15.00 Glass 175ml: 5.50 Glass 125ml: 3.75
**** Many of our regular customers will be delighted to know that we now have the superb Pago de Carraovejas Crianza back on our list. The 2014 Crianza is a subtle, harmonic and elegant blend of Tempranillo (Tinto Fino) with some 12% Cabernet Sauvignon and 9% Merlot, matured in French and American oak barrels for a year. With 15% alcohol it's not a shy wine, but it's nicely balanced, the oak is present but integrated with the fruit, and the palate is full-bodied and round, with lush tannins and a fabulous finish. £49.00.