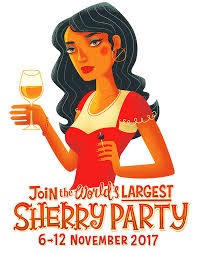 Our list of sherries to taste each day this week, a small taster and a free tapa to go with it, on the house!
MONDAY 6TH NOVEMBER:
'I Think' Manzanilla en Rama. Glass 6.50 37.5cl. 19.00
A fine Manzanilla that's powerfully aromatic. Fresh, with a salty tang, plenty of acidity together with a very satisfying lemon twist to the finish.
TUESDAY 7TH NOVEMBER:
'VIňa A B', Amontillado Seco. Glass 4.50 50cl. 16.50 75cl. 24.50
Full bodied and dry, delicate almond & hazelnut flavours with a long aftertaste.
WEDNESDAY 8TH NOVEMBER:
'Alegria', Manzanilla. Glass 4.75 37.5cl. 12.75
Dry & sharp on the nose, light & refreshing, very dry and intense palate.
THURSDAY 9TH NOVEMBER:
'Fino En Rama 2017' Fino. Glass 6.50 37.5cl. 19.00
Mellow, nutty nose with fine citrus and spice notes. The palate is fresh and tangy with nuts, herbs and some spice. Very attractive and elegant.
FRIDAY 10TH NOVEMBER:
'Solera 1847' Oloroso Dulce Glass 4.50 50cl 16.50 75cl. 24.50
A superior dark, rich, sweet sherry aged for around nine years. Solera 1847 has a velvety palate, with concentrated sweet raisin and figs from the addition of Pedro Ximenez.
SATURDAY 11TH NOVEMBER:
'Classic Manzanilla' Fernando de Castilla. Glass 5.00 37.5CL. 13.75
Decidedly tangy, yeasty and salty nose. The palate has soft apple and citrus flavours with a savoury nutty finish.